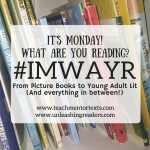 It's the beginning of a new school year, which means new books for my classroom library. After moving a few shelves into place and rearranging some books, it is very clear to me that I need to do more curating and less hoarding  with my classroom library books(thank you, Donalyn Miller!).
This week, I am trying to find books that will appeal to my strong reader  tweens who are "on the reading cusp" between 5th and 6th grade. It's so tricky, but I am happy to have rediscovered The Cruisers series, by the inimitable Walter Dean Myers. While it's a little more middle school-ish than 5th grade, those kids who are pushing the middle grades envelope will be happy to have found this series.
From Goodreads:
Zander and his crew are underdogs at DaVinci Academy, one of the best Gifted and Talented schools in Harlem. But even these kids who are known as losers can win by speaking up. When they start their own school newspaper, stuff happens. Big stuff. Loud stuff. Stuff nobody expects. Mr. Culpepper, the Assistant Principal and Chief Executioner, is ready to be rid of Zander, Kambui, LaShonda, and Bobbi—until they prove that their writing packs enough power to keep the peace and show what it means to stand up for a cause.
This book brings the past to the present by taking on the Civil War issues between the Union and Confederacy with a group of middle grades students who are exploring freedom of speech, freedom of the press, and identity. I think this book (and series) is a good "pre YA" transition type book. Let me know what you think!