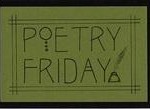 Winding down my final days before going back to school…. sitting on my front porch, knitting and listen to thunder, I am reminded of one of my favorite "summer poems" from James Stevenson's great little gem of a book called Sweet Corn
SUMMER STORM
WHEN THE THUNDERSTORM COMES
PUNCHING ITS WAY THROUGH TOWN,
THE DOG STICKS HER NOSE UNDER THE SOFA.
ALL OF US FLINCH AS THE LIGHTENING HITS,
REVEALED AS CRINGING COWARDS IN THE FLASH.
RAIN HURLS ITSELF INTO THE STREET.
THE OLD HOUSE TREMBLES.
BUT EVERYBODY KNOWS
WHEN THIS LETS UP AND THE SKY TURNS BLUE,
WE'LL THROW OUR SNEAKERS OFF AND RACE
TO MUDDY PUDDLES DEEP AND WARM
AND KICK THE WATER BACK INTO THE SKY.
James Stevenson
Enjoy!