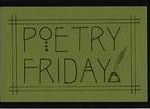 For this week's Poetry Friday, I chose this poem by one of my favorite poets. If you have a few moments to poke around the poetry foundation resources, read her bio. She is one of my writer heroes. Enjoy the poem, and Happy Friday!
October- Midst, by Eve Merriam
The mornings careless, sun-sprawled, radical with light,
Roller-coaster air: plunging to bottomless bright
Then giddying climb to shattering sky-sight
Blue!
Trees carnival with color, the circus wind through all,
And I the acrobat along the slack wire crawl
The net of job below daily to fall
Into.