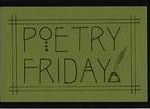 I have been enjoying the summer so much, and have especially enjoyed taking time to read a lot of books that sort of rushed through when I first got them, and then put on the shelf. One such book that I am very fond of is Firefly July: A Year of Very Short Poems by Paul Janeczko. If you are looking for a lovely, well-curated collection of poems for the year, you will not be disappointed. Janeczko is brilliant, and Melissa Sweet's illustrations are colorful and enchanting. I collect poetry anthologies, and this is my new favorite 🙂
I was in the mood for Emily Dickinson this week, and so the poem I am sharing is from the "Summer" section of  the book:
The Moon was but a Chin of Gold by Emily Dickinson
The Moon was but a Chin of Gold
A Night or two ago —
And now she turns Her perfect Face
Upon the World below –Her Forehead is of Amplest Blonde —
Her Cheek — a Beryl hewn —
Her Eye unto the Summer Dew
The likest I have known –Her Lips of Amber never part —
But what must be the smile
Upon Her Friend she could confer
Were such Her Silver Will —
And what a privilege to be
But the remotest Star —
For Certainty She take Her Way
Beside Your Palace Door —
read the rest here and you can also see her manuscript in these archives!