It's almost Thursday, and I can't believe I missed #IMWAYR this week! Time is flying! My school finished two weeks of professional development last Thursday, and this week we are "off" before school starts on Monday. Anyone who teaches knows that we are never really "off" the week before school starts! I have been in my classroom every day, getting ready for the year ahead.
Thanks to a dear colleague, I made some much needed changes in the layout of my room. After moving big and small pieces of furniture, my technology, and my "teaching space," I am almost ready to do some of the day to day planning. First up is my read aloud planning. I love to think about my book choices and how they will spark strong conversations, gentle or not-so-gentle-laughter, and plant seeds for future discussions. I like to think about a mix of old favorites and new books, and I like to think about the new books that will become old favorites! If you look closely, you can see the newest book on my shelf, The Little Gardener, which I won from the awesome Mr. Schu! Many thanks, Mr. Schu!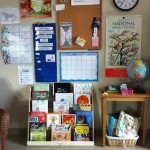 My meeting area is the hub of my classroom, and although it is still very much a "work in progress" it is Command Central! Next to the read aloud picture  books for the first few weeks of school are my Family Book Bags. These are books that are chosen to share with families. After we read and discuss the book in school, each child has a chance to bring the book home overnight and share it with someone. They record their response in a notebook and share the experience with the class the next morning in school. It is still one of my favorite rituals and it is surprising how many 5th graders enjoy participating. I will be sharing more about these as the year goes on. Here is one that I made for the fabulous Jeanette Winter's book, Biblioburro, based on a true story from Colombia about a man who starts a donkey library. What's not to love?!
Well, time to get back to work….. kids are coming in 5 days and I have books to shelve!  😉