It's Monday, What Are You Reading?  is hosted by Jen Vincent @ Teach Mentor Texts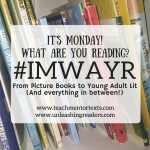 After an incredibly energizing weekend at @TCRWP Saturday Reunion, I am recommitting to my blog and trying, ONCE AGAIN, to make a habit of posting more regularly. Every workshop I attended was well organized and provided solid tips on strengthening workshop instruction. One workshop I found myself in was totally unplanned, as I was shut out of my first two choices. I wandered into Gary Peterson's interactive read aloud workshop, and was so glad I did. He reminded me of an incredible picture book by Margaret Wild and Ron Brooks:
A story about a dog, a magpie, and a fox, this is a provocative tale that fosters great discussion around themes of loyalty, friendship, and trust (among other themes). While reading this book aloud, Peterson encouraged teachers to be intentional about prompting students to synthesize and interpret the story through questioning. What resonated most with me, though, was his statement about interactive read alouds. He said, "Interactive reading is about the democratization of the classroom." Merriam Webster defines democratization as follows:
to make (something) available to all people : to make it possible for all people to understand (something)

WOW! I realized that he actually helped me name one of my most fundamental beliefs about literacy instruction through reading aloud. I know from my 20-plus years of experience that reading aloud interactively is powerful for children. I considered my read-aloud time sacred, and referred to it as the heartbeat of my classroom. Now, I know that reading aloud is probably the single-most reason my students consistently made impressive growth in 5th grade. Not small group, not guided reading, but interactive read aloud and shared reading. With texts like Fox.
Interactive read alouds (IRA) give all kids access to the same high quality text. Well planned and delivered IRAs bring all kids into meaningful instructional conversations that have the potential to raise achievement of all kids, because the bar is raised for all kids.Our English learners and children who are not reading at grade level get a much needed exposure to vocabulary and concepts that they need. Teachers can level the playing field with IRAs.
If you are not reading aloud interactively regularly with your students, you are missing out on the most exhilarating component of reading instruction. What are you waiting for? Start democratzing your classroom today, with Fox!
(Although others may feel differently, I would recommend this book for grades 3-6).