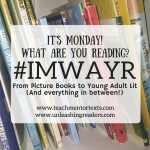 This Monday, I'm reading Towers Falling, by Jewell Parker Rhodes. The book centers on fifth grader Deja, and her classmates Ben and Sabeen. Their teacher has decided to assign a project that requires the students to learn about September 11 and the Twin Towers. As stated on the cover flap, Jewell Parker Rhodes tells a story of resilience, hope, and finding yourself in a complicated world."
Deja's life is complicated. She lives with her family in a homeless shelter. She's trying to negotiate her home life with her life on a new school that is very different from schools she has attended in the past. The book offers lots of opportunities to teach topics that can be hard to talk about in the classroom. Because of this, the book is an excellent choice as an anchor book in a text set. In fact, if you want great suggestions, check out Book Whisperer Donalyn Miller's terrific post on Nerdy Book Club. She offers a great range of fiction, non-fiction, and picture books. A favorite picture book of mine is included: Fireboat: The Heroic Adventures of the John J. Harvey, by Maira Kalman. I am a longtime fan of Maira Kalman, and this book is deceptively simple. It is actually great for upper elementary students, as well as younger children, as a springboard for talking about this difficult event.
As a teacher, I struggled with ways to talk about 9/11 with students who weren't even born when this event took place. I absolutely wanted to steer clear of any type of sensationalism and tried to think about reasons why it would be important to address with 5th graders.  Jewell Parker Rhodes helps make sense of things with Towers Falling by helping children understand many changes in our world since 9/11. Here is a quote from Deja at the end of the book:
"School didn't teach me everything about 9/11. Still, I understand a lot more now. I understand some of the enormous hurt to families, my family, and country."
If I were going to add to Donalyn Miller's list of teaching resources for 9/11, here are some texts I would add:
Messages to Ground Zero by Shelley Harwayne.
An excerpt from the National Writing Project provides information:
In the introduction to this anthology, Harwayne writes:

"On the morning of September 11th, 2001 many of our New York City students saw, heard, smelled, and felt things that none of the grown-ups were prepared to explain. Our students, as well as students throughout our country picked up their pens, pencils, crayons, markers, and paintbrushes and attempted to make sense of this most incomprehensible of acts. Our children attempted to use their words and their art to wrap their arms around the tragedy that befell families in the New York metropolitan area as well as residents of Washington and Pennsylvania….Our children also used their writing and art to offer condolence, comfort others, and of course, bear witness."
I also would include an essay written by self-described Arab American poet Naomi Shihab Nye, entitled
The current climate in our country as we head into our presidential election is filled with fear and hate. It's a very hard world to navigate these days, and it is good to know that there are books and authors who can help us help children make sense of the senseless….or at least try. I will end with a poem by Naomi Shihab Nye that I would also include in the early days of the school year, called Kindness, as well as a poem by Mattie Stepanek that follows:

Kindness

Before you know what kindness really is
you must lose things,
feel the future dissolve in a moment
like salt in a weakened broth.
What you held in your hand,
what you counted and carefully saved,
all this must go so you know
how desolate the landscape can be
between the regions of kindness.
To read the rest of the poem, find it here at The Writer's Almanac.
Finally, a beautiful poem for young children:
For Our World by Mattie Stepanek:
For Our World

We need to stop.
Just stop.
Stop for a moment.
Before anybody
Says or does anything
That may hurt anyone else.

Read the rest here.
Have a great week!