Thanks to Kellee Moye and Jen Vincent for hosting this meme.
So, our 5th graders are reading Kwame Alexander's brilliant Newbery winning novel, The Crossover, and I've been stressing about what to offer them as a follow up. Is there a follow up to this amazing book? What could possibly follow The Crossover? And be suitable for intermediate grade ….not quite YA … readers?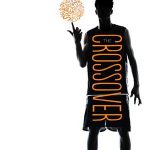 A little background ….. we decided to take two groups of 5th graders who are so called  "struggling readers" and give them a break from their Read180 routine. We wanted to get them really excited about reading. Their reading specialist and I decided to try The Crossover with them, even though it is technically "way above" their level. Honestly, I think it will become what Steve Krashen calls their  "home run book."
Fast forward past some of the prep we did to tell you that the kids are loving reading and Kwame Alexander! Some of my favorite moments from the kids are in their conversations about the book, and their connections. One student even decided that his nickname is "The GOAT" and he actually is convinced that is his nickname. "For real, it's my nickname, too. " Some of the girls were not buying it, but he's sticking to his story.
Another student demanded that we get more copies of the book for our school (full disclosure: I even thought about copying some books because we can't afford hardcover copies for all the kids to have a copy at our school). He said, "We need to have the real book, especially when the book is this good." Luckily, our neighborhood library rustled up enough multiple copies for us. Phew!
Our school is in a high poverty area (91% free lunch) and we are located in a book desert. It is not easy to get books into our kids' hands, especially new books that provide windows and mirrors as advocated by #WeNeedDiverseBooks. Helping kids develop strong reading identities is often not a priority in high intervention schools, but it needs to be in order to make necessary change.
The Crossover has been a game changer for some of our kids, who are among the hardest kids to turn onto reading. So, my mind has been filled with ways to keep the reading momentum going for these guys, and luckily, I am happily haunted by Jason Reynold's fabulous book, Ghost.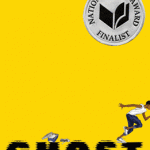 From the National Book Foundation:
Ghost has a crazy natural talent, but no formal training. If he can stay on track, literally and figuratively, he could be the best sprinter in the city. But Ghost has been running for the wrong reasons—it all starting with running away from his father, who, when Ghost was a very little boy, chased him and his mother through their apartment, then down the street, with a loaded gun, aiming to kill. Since then, Ghost has been the one causing problems—and running away from them—until he meets Coach, an ex-Olympic Medalist who blew his own shot at success by using drugs, and who is determined to keep other kids from blowing their shots at life.
The characters are believable, and the best thing about this book is that it is perfect for 5th and 6th graders (and their teachers) who are longing for a bridge to YA Lit. I am SO happy to have found Jason Reynolds for upper elementary, transition-to-middle grades readers. #thankful #bringonjasonreynolds. Check him out. Today. Like NOW. Don't wait!
Some other books that we included in a text set for our readers are the following:
Rimshots by Charles R. Smith, Jr. – Great collection of basketball poems
Hoops, by Robert Burleigh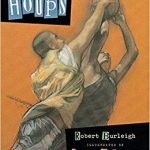 Kids need to find themselves in books, so that they can find themselves in life. We need to keep demanding more diverse books, and we need to make sure these amazing books get into the hands of the kids who most need to read them.