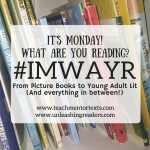 I am a little behind on my reading, as I try to get back into the rhythm of the school year. There are so many things to do, and never enough time to get them all done! However, my priority right now is to get my classroom library stocked and ready for business. My range of 5th grade readers this year spans Fountas & Pinnell reading levels O – V. I spent the better part of my Saturday afternoon at my local indie bookshop combing the shelves for some new titles to add to my shelves. I know I wanted to get
and it might just have to be a read aloud this year. Goodreads says:
BE WHO YOU ARE.

When people look at George, they think they see a boy. But she knows she's not a boy. She knows she's a girl.

George thinks she'll have to keep this a secret forever. Then her teacher announces that their class play is going to be Charlotte's Web. George really, really, REALLY wants to play Charlotte. But the teacher says she can't even try out for the part . . . because she's a boy.

With the help of her best friend, Kelly, George comes up with a plan. Not just so she can be Charlotte — but so everyone can know who she is, once and for all.
I am so happy to have this book geared for my age group. It's about time! Thank you, Alex Gino! I am eager to read and plan how to work with George in my classroom. That's all, this week!